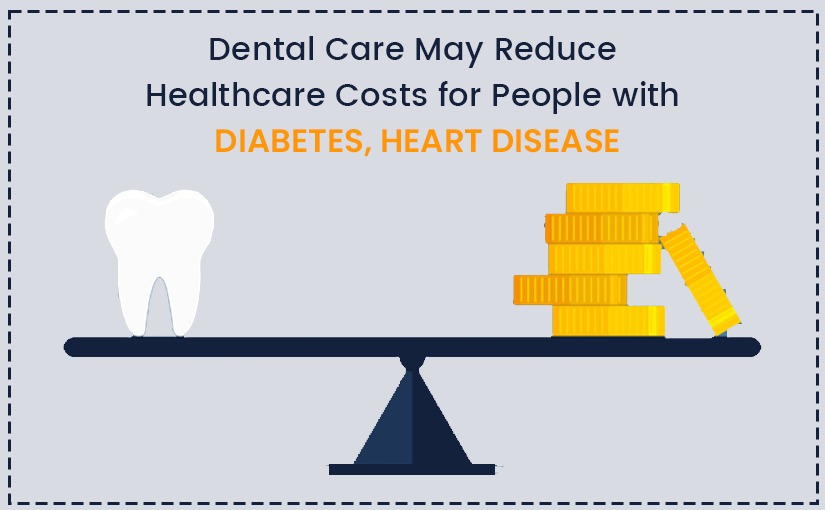 New research shows routine dental care lowers healthcare costs for people, especially those with diabetes and heart-related diseases.
A study conducted at Mayo Clinic and published in the journal Compendium of Continuing Education in Dentistry analyzed records of 11,734 adults with diabetes, heart disease or both. The study conducted compared and analyzed the healthcare costs of people who had at least one preventive dental visit for each year as compared to those who didn't receive any dental care, all enrolled in the health plan between 2014 and 2018.
Overall, the researchers discovered that patients who received dental care at least once a year saved $549 for those with diabetes, $548 for those with coronary artery disease, and $866 for those with both conditions in comparison to those who didn't.
Kalpit Hospital, a multispecialty hospital in Khalilabad, takes initiative to make you understand the link between dental care and reduced healthcare costs for people suffering from diabetes and heart disease.
How is dental care linked with reduced healthcare costs?
According to our dentist at Kalpit Hospital in Khalilabad, your overall systemic health is accessed through your oral cavity. Therefore, it is not surprising that preventive dental care can lower healthcare costs in other areas, particularly for people with diabetes and heart disease.
Diabetes increases the risk of periodontal diseases. High blood sugar is associated with both oral health issues and diabetes. The likelihood of oral health problems increases with poor blood sugar control. Because uncontrolled diabetes impairs white blood cells, the body's primary line of defence against bacterial infections that can develop in the mouth, these infections are more likely to occur. The condition may lead to dry mouth, gum infections, poor healing of oral tissues, thrush, burning mouth, etc. So controlling blood sugar levels can reduce the risk of oral health issues.
Additionally, it is found that the bacteria found in periodontal diseases is linked to that found in heart disease, especially the streptococci strain. The bacteria originating from the mouth enter the bloodstream and reach the heart. It then infects the lining of the heart resulting in inflammation that causes damage to the heart valve.
To avoid such risks, it is better to take proper care of your oral health. A regular visit to your dentist might alarm you about the development of oral infections. Since oral health tells a lot about your overall health so maintaining good care of your oral cavity, you are likely to take care of your diabetes and heart too.
High blood sugar or bacteria may lead to expensive in-patient hospitalization. However, with proper dental care, you can avoid hospitalization.
How can you take care of your oral health?
At least twice a year, visit the dentist to have your teeth and gums cleaned and examined. Find out how frequently you'll need check-ups by speaking with your dentist.
Use dental floss at least once per day to avoid plaque accumulation on your teeth.
After every meal, brush your teeth. Use a toothbrush with soft bristles.
If you have dentures, take them out every day and clean them.
Consult your doctor about ways to stop smoking if you do.
Conclusion
Thus, if you are suffering from diabetes, heart disease or both, take care of your oral as it will reduce your overall healthcare costs.
A regular visit to the dentist at Kalpit Hospital, the multispecialty hospital in Khalilabad keeps you informed about your dental health as well as your overall health.
For regular dental check-ups, book an appointment with the dentist at Kalpit Hospital.