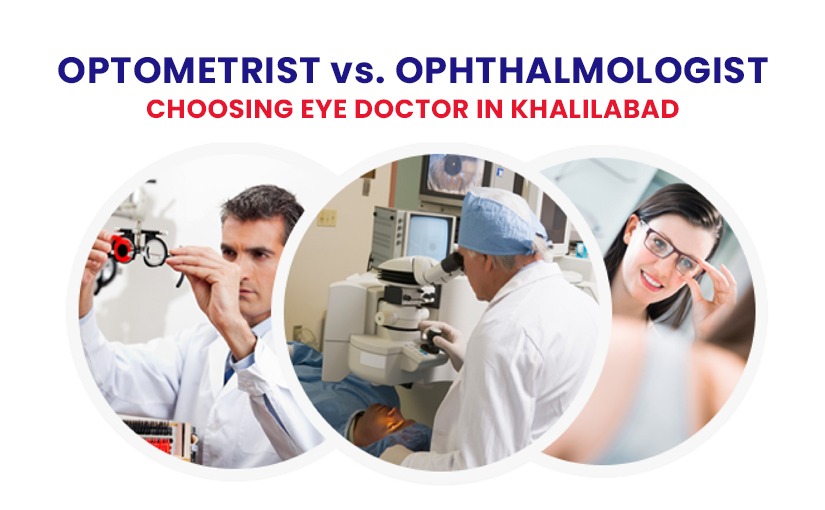 Khalilabad, a small town in Uttar Pradesh, is most famous for its handloom cloth market, commonly known as Bardahia Bazar. The people of Khalilabad enjoy the easy-going vibe of the place, and Kalpit Hospital, the best multispecialty hospital in Khalilabad, provides all the essential healthcare facilities. At Kalpit Hospital, we take pride in providing various eye treatments such as cataracts, eye surgery, glaucoma, LASIK, and others.
Kalpit Hospital has the most knowledgeable and skilled team of eye doctors in Gorakhpur. At our state-of-the-art eye centre, our eye care professionals provide the best quality treatment with compassion and care.
You can receive treatment from the best ophthalmologists and optometrists at Kalpit Hospital. But what exactly is the distinction between ophthalmologists and optometrists? And how can you decide who is the best fit for you? Let's go over this in more detail in the following sections of this post.
Who are optometrists, and what are their tasks?
Optometrists hold a bachelor's degree in optometry. They are best known for conducting vision tests and comprehensive eye exams. They can, however, do a lot more for your vision. A thorough eye exam allows them to detect more serious eye health issues such as glaucoma. They cannot perform major eye surgery, but they can provide pre-and post-operative care.
An optometrist, commonly known as an OD, can check the success of eye surgery the next day by performing an eye exam on the patient. In some cases, they can also treat minor eye injuries and perform minor eye surgery. Furthermore, optometrists can screen patients for underlying health conditions such as high blood pressure, diabetes, cancer, and autoimmune diseases.
In addition, optometrists can also prescribe corrective lenses, eyeglasses, and other visual aids. They are also qualified to provide non-invasive treatments such as vision rehabilitation and therapy. Often, they also write prescriptions for medications.
Who are ophthalmologists, and what are their tasks?
Ophthalmologists, on the other hand, are Medical Doctors (MDs) who specialise in treating all eye diseases. Their level of specialisation, however, may vary depending on their field of study. They can pursue additional years of training in a specific area of eye health. It could be glaucoma, cornea, retina, neurology, or another condition.
They are capable of determining the severity of eye diseases and vision problems. They can do everything an optometrist can and much more. An ophthalmologist can treat glaucoma, farsightedness, near-sightedness, cataracts, crossed eyes, retinal detachment, optic nerve syndrome, paediatric eye health issues, and many other conditions.
For all of the conditions mentioned above, an ophthalmologist can prescribe medication and perform advanced-level eye surgeries. They are also qualified to perform LASIK procedures.
An optometrist or an ophthalmologist: who can help you?
Professionally, optometrists and ophthalmologists are different. As previously stated, optometrists have limitations. Ophthalmologists, on the other hand, can treat all of your eye diseases. You can start by seeing an optometrist, who can then refer you to an ophthalmologist if necessary. You can also go directly to an ophthalmologist.
You may still be unsure whether you should see an optometrist or an ophthalmologist. Here is a need-based checklist to help you decide between OD and MD eye doctors.
You should see an optometrist if you have any of the following needs:
If you experience pain or other unusual symptoms in your eye, you should have a thorough eye exam.
Follow-up after surgery to ensure the procedure's success.
A routine vision screening test determines whether you require glasses or contact lenses.
TodDetermine the severity of an eye injury
Consult an ophthalmologist if you require any of the following:
Medication for the eyes.
An advanced evaluation of an injury.
Surgery on the eyes.
Check to see if you have an underlying health problem that is affecting your vision.
Eye exam/vision test (both an OD and an MD can do this).
In your forties, you have your first comprehensive dilated eye exam.
Follow-up at the highest level for vision rehabilitation following eye surgery.
Conclusion
Kalpit Hospital, the multispecialty hospital in Khalilabad, Uttar Pradesh, has top-notch healthcare facilities. It has a number of medical departments, including a well-equipped ophthalmology department. Here, we have the best eye specialist or ophthalmologist whom you can visit any day of the week. For any issues or complications related to the eye, do visit us.