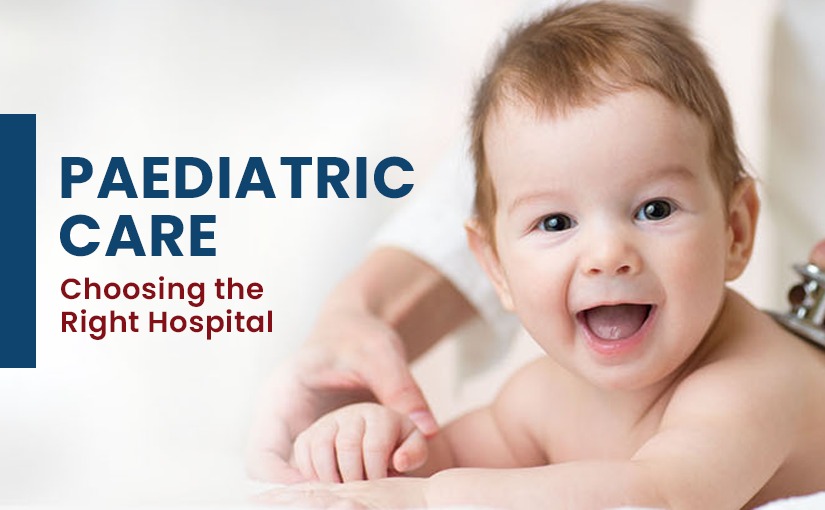 A paediatrician check-up is one of the first requirements for kids or newborn infants. This ensures that the babies are healthy, and if any health anomaly is discovered, treatment and care can begin immediately. The sooner you get a diagnosis and treatment, the sooner you can recover. Kalpit Hospital, the multispeciality hospital in Khalilabad, Uttar Pradesh, has top-notch facilities. The hospital has a number of departments, doctors, and surgeons, besides well-trained, experienced supporting staff. Paediatric care is essential, and so is the choice of the right hospital for your little ones. The best healthcare centre in Khalilabad takes care of not only adults but also little ones.
Why do children require a good paediatric hospital?
Kids and infants are delicate. They need extra care. Even the most hygienic environment may not be 100% safe for your children, and they may fall sick. Typically, these are minor issues that can be resolved with caution and common sense. However, there may be times when a child requires a doctor's examination to diagnose a problem and prescribe a course of treatment. Babies are not just miniature adults. Children should not be treated the same as adults, whether in terms of testing, examination, diagnosis, or treatment. Their bodies are delicate and still growing, and a treatment plan designed for adults may be hazardous to a child. That is why you must choose the right hospital for children.
Factors to look for while choosing the right paediatric healthcare centre?
Patient- and family-centred care
One of the first considerations when deciding on the best hospital for your child is a focus on patient and family-centred care. Family-centred care is a healthcare planning and delivery approach that emphasises meaningful and productive partnerships between patients, families, and healthcare professionals in all aspects of paediatric care. This promotes active collaboration and shared decision-making among families and providers to create customised and comprehensive care that addresses emotional, mental, spiritual, social, and financial concerns. Inviting families to participate in conversations and decisions about their children's care as full partners helps patients and their families stay engaged and improves safety and quality of care.
Kid-friendly environment
Many patients, particularly children, find hospitalisation frightening. As a result, anything families can do to make their child's hospital stay feel more like a home than a scary foreign place is critical. Children must have the space and freedom to play and be children, whether that is a fun, whimsical, colourful space where children feel happy.
It is also critical to select a children's hospital that will help alleviate their fears and make their stay less daunting, from the walk to the operating room to experienced staff for making children relax and feel at ease during their stay.
Innovative Technology
Another important factor that families should look for in a children's hospital is access to cutting-edge technology. When it comes to our children, we want to ensure that they have access to the best of the best, including sophisticated machines and equipment that allow for complex procedures with high success rates, as well as technology that helps improve patient safety and leads to a consistent experience.
Specialised services
Along with innovative technology, parents must ensure that sick children have access to all services. It must have good facilities for inpatient and outpatient. Children may require a variety of services during their hospital stay, including lab tests, surgical procedures, specialists, medications, and more. It is critical to select a hospital that can meet the various needs that your child's condition will necessitate.
Why Kalpit Hospital is the best for paediatric care?
Kalpit Hospital, the multispeciality hospital in Khalilabad, Uttar Pradesh, besides having the best paediatrician has several facilities that make it the best children's hospital in the region.
The paediatric department of Kalpit Hospital is dedicated to advancing the practice of family-centred care by providing excellent care, comfort, and wellbeing; involving children and families as partners, and working collaboratively to eliminate preventable harm.
It is created with one goal in mind which is to design a space where children and families feel safe and supported. The artwork of the place focuses on a kid-friendly theme.
The hospital offers paediatric inpatient and outpatient care, procedural and surgical services and a variety of ambulatory services that a child may require during his or her hospital stay, such as NICU, testing lab and radiologist. Doctors and staff assist children in relaxing and feeling less overwhelmed by their hospitalisation.
Conclusion
Kalpit Hospital, the multispeciality hospital in Khalilabad, Uttar Pradesh, has the best paediatric care centre in the region. With its top-notch facilities, it is capable of serving the people in the best possible way. For any health-related issues, visit us.