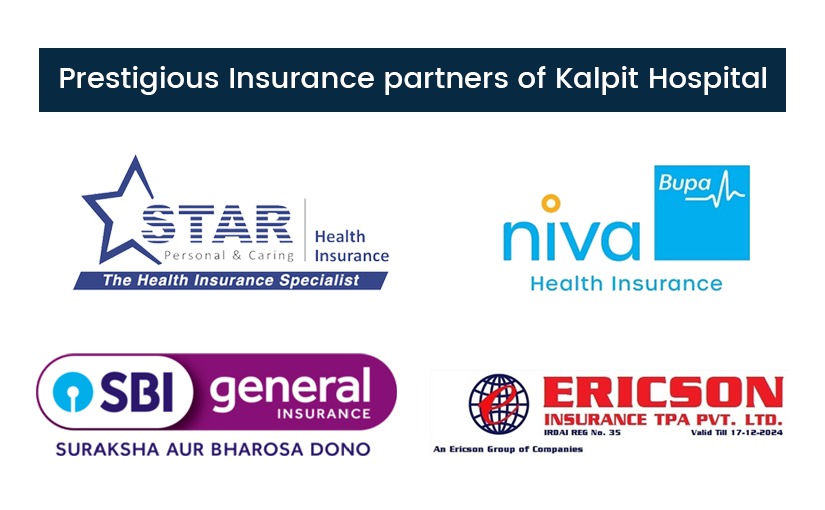 We are aware of your needs and are concerned for your well-being. We know that you give hospitals a lot of thought before visiting them. Your health and your finances should not be at odds. To help you with finances, Kalpit Hospital, the leading multispecialty hospital in Khalilabad, has partnered with an elaborate group of insurance companies and third-party administrators (TPAs). This blog gives you information about the prestigious insurance companies with whom Kalpit Hospital has partnered.
1. Bajaj Allianz General Insurance Company Limited
In order to operate a general insurance business in India, a joint venture between Allianz SE and Bajaj Finserv Limited received a certificate of registration from IRDA in 2001. Through the brand "Caring yours", the company repositions itself in Indian consumers' thoughts as a brand that protects and cares about customers' financial anxieties about their most cherished belongings, including health. It provides the greatest medical insurance and health insurance policies and does it at low premium costs. The top Bajaj Allianz health insurance packages include
• Bajaj Allianz Health Guard Policy
• Bajaj Allianz Total Health Secure Goal Policy
• Bajaj Allianz Critical illness plan
• Bajaj Allianz Health Infinity Policy
• Bajaj Allianz Extra Care Plus Policy
2. Star Health and Allied Insurance Co. Ltd
Star Health and Allied Insurance Co. Ltd., an international provider of health insurance with its headquarters in Chennai, Tamil Nadu, was founded in 2006. The business provides a wide selection of reasonably priced health insurance options for individuals, families, and businesses. It is a specialised health insurance business that offers medical coverage with a focus on quality. The business provides financial protection against a variety of medical costs in the event of disease, sickness, medical crises, and accidents. The business provides a number of health insurance options. Several good plans include:
• Star Health Comprehensive Plan
• Family Health Optima Insurance Policy
• Young Star Insurance Policy
• Star Medi Classic Insurance Policy
• Star Hospital Cash Insurance Policy
It also provides a number of different plans that are tailored specifically for women, seniors, people with certain pre-existing conditions, and COVID-19.
3. Ericson Insurance TPA Pvt Ltd
In order to earn the trust of policyholders, Ericson Insurance TPA Pvt Ltd works hard to comprehend the needs of insurers. To provide the finest service possible to the registered members, the organisation combines the art of health benefit administration with cutting-edge technology, innovations, and best practices. To be the best at all it does as a TPA, it keeps a close relationship with insurers and healthcare providers. The following TPA services are provided by Ericson Insurance:
• Cashless and hassle-free hospitalization benefits
• Member enrolment, benefit confirmation, and online profile management
• Empanelment of service providers, negotiation of tariffs and discounts
• Customer support and helpline
• Claims adjudication and payment
• Analytics/ underwriting support
4. Aditya Birla Health Insurance Company
Aditya Birla Health Insurance Company Limited, a division of Aditya Birla Capital Ltd, has been in the health insurance industry since 2016. The organisation provides you and your family with full medical expense coverage in the event of any illness, sickness, disease, or accident through a variety of health insurance products. You may take use of a number of healthcare services through Aditya Birla Health Insurance, including cashless treatment, ambulance coverage, pre- and post-hospitalization costs, intensive care, and wellness initiatives. The top Aditya Birla Health Insurance policies, out of several available health insurance plans, are:
• Aditya Birla Activ Assure Diamond Policy
• Aditya Birla Activ Health Platinum Policy
• Aditya Birla Activ Secure Policy
• Aditya Birla Activ Care Policy
• Aditya Birla Arogya Sanjeevani Policy
5. Niva Bupa Health Insurance Company Limited
Niva Bupa Health Insurance Company Limited, formerly Max Bupa Health Insurance, is a stand-alone health insurance provider that was founded in 2008. By putting a strong emphasis on client-centricity, product innovation, and digital capacity, the company hopes to give its customers access to healthcare in addition to financial assurance. Everyone, including individuals, families, senior citizens, women, parents, self-employed individuals, and children, can choose from a variety of affordable health insurance plans offered by the insurer. Additionally, it provides hassle-free service and cashless transactions. Additionally, Niva Bupa is dedicated to inspiring its clients to lead healthy lives. To this end, it has launched a number of digital solutions, including the Health App and AnyTimeHealth (ATH) kiosks. Among Niva Bupa's top insurance programmes are
• Niva Bupa Criticare
• Niva Bupa Heartbeat
• Niva Bupa Health Pulse
• Niva Bupa Arogya Sanjeevani Policy
• Niva Bupa Health Premia Policy
6. SBI General Insurance
SBI General Insurance began operations in 2010, and one of its most promising offerings is health insurance. It provides a variety of insurance policies that are inexpensive and available to everyone. SBI's insurance plans are made to protect both individuals and families against a variety of medical bills. The insurer offers straightforward and creative general insurance solutions, is attentive to customers' needs, and is working to develop a long-lasting company with an aim to become India's most dependable general insurer. SBI Health Insurance's top insurance packages include the following:
• SBI Critical Illness Insurance Policy
• SBI Hospital Daily Cash Policy
• SBI Arogya Plus Policy
• SBI Arogya Premier Policy
• SBI Arogya Top-Up Policy
Conclusion
Kalpit Hospital, the leading multispecialty hospital in Khalilabad, is committed to serving the people of Khalilabad and other regions around it with the best medical facilities. To help you financially, we have tie-ups with the prestigious health insurance companies mentioned above. Now you don't need to worry about visiting the hospital due to financial constraints.
Get the best treatment at an affordable rate at Kalpit Hospital in Khalilabad.